Juniors are welcome!
Bairnsdale Field & Game welcomes junior shooters, and understands that it can be expensive for families who all shoot to introduce children to the sport. 

There are two categories of Juniors in Field & Game Australia's competition sections. 12-14 year olds compete as Sub-Juniors, 15-17 year olds compete as Juniors. 

At Bairnsdale Field & Game Sub-Juniors entry fees (or "noms")on competition days, are covered by the club in order to make it more affordable for families to bring kids along and participate.  (some conditions apply to major events)
It's probably also worth mentioning that there is no issue with sharing guns in competition, though it helps to be in the same squad. If your child wants to join in, they should be encouraged. There are a lot of options for making it easier. There's a lot of variation in weight between different shotguns, and sometimes it's easier for sub-juniors to start with a 20 gauge instead of a 12 gauge. While many think this is due to recoil, it's generally that the 20 gauge is a lot lighter, which combined with lighter target load shells means the recoil is similar, but it's easier for them to support the weight of the shotgun when calling for the target.
---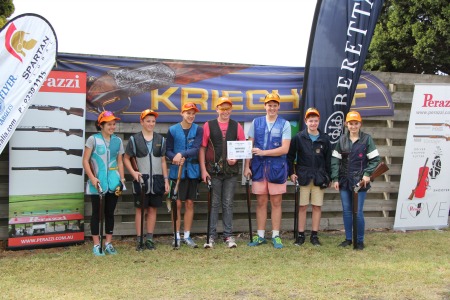 L-R:Aislin Jones, Adam Beechey, Ben Burchell, 
Conner Crane & Brayden Baade (Nagle College)

 

 

 
East Gippsland Secondary School Championship - 11th May 2015