A brief history of Bairnsdale Field & Game
Sporting shooting in the Bairnsdale District dates back to the late 1800's. Early records from the Bairnsdale Advertiser and Tambo and Omeo Chronicle show that live bird shooting was enjoyed as a sport in early 1890's, and give a fascinating insight into the earliest examples of the sport in this area.
28th Sept 1911, Bairnsdale Advertiser and Tambo
and Omeo Chronicle

10th Sept, 1892 - Bairnsdale Advertiser and Tambo
and Omeo Chronicle

4th Feb, 1893 - Bairnsdale Advertiser and
Tambo and Omeo Chronicle

13th May, 1913 - Bairnsdale Advertiser and 
Tambo and Omeo Chronicle
Very little information has been able to be found about the club during the period from World War I through to World War II. Any information or photos that members or other locals may have would be gratefully received. (Contact This email address is being protected from spambots. You need JavaScript enabled to view it.)
During World War II many clubs went into a hiatus, both due to the number of men who enlisted and went to fight, and also due to the fact that powder was hard to get. The greater majority of powder production was utilised for military purposes though Wangaratta CTC's history page suggests that application could be made for specific purposes such as splitting posts and some of this was known to have been diverted into shotshell reloading by recreational shooters when ever they could get their hands on some.
In the years concluding the end of World War II there were a number of displaced young men at loose ends, whose reckless firearm use was giving legitimate firearm owners a bad name. Farmers were experiencing problems with shooting of wildlife, farm equipment, signs & machinery. In February 1952, after losing cattle in a shooting incident at his property on "The Straits," Bairnsdale Councillor Ray Archibald chaired a meeting to discuss the issue. As an article by journalist Ray Frawley was headlined many years later, as a result "Cows Death Saved Ducks", owing to the fact that the death of the cow was the genesis for a club that has since had significant impacts on conservation of wetlands on the Gippsland Lakes.
At that meeting the Bairnsdale Field Sportsman's Association was formed. It was common in the day for clubs to form as groups with common interests, and many clubs scattered across Gippsland generally undertaking activities such as fishing, shooting and other outdoor pursuits. Special interest clubs evolved from these early beginnings.
At that first meeting of the Bairnsdale Field Sportsman's Association, initial membership was set at 1£ 1', or 1 Guinea as 21 shillings was known in the day. Renewal was set at 10 shillings. The purpose of the group was to represent sporting shooters from the Bairnsdale district.
At the time there was a much greater variety of game bird to be shot and seasons varied from species to species. Between the seasons the new group decided to shoot clay targets to keep their eye in. Three to four times a year, groups of members would meet at Lindenow South. Early meets would have involved live bird shoots as was common in that period across Australia, as well as clay targets.
Other clubs were forming or had already formed at places such as Sale & Yarram. In 1958 there was a strong sense of a need for a state association to more broadly represent the clubs. Members from Bairnsdale were already active in this space, and club minutes show that meetings had already occurred with the GACA in 1956. In 1958 a meeting held in Sale created history with the formation of the Victorian Field & Game Association, with Bairnsdale Field Sportsman's Association as one of several founding clubs commencing affiliation with the VFGA.
As an affiliated member of this group, Bairnsdale was one of the early clubs to lobby for a game licensing system and to have proper regulation of seasons on game species.
Clay target shooting developed as a sport during theses years, and in Bairnsdale the local clay target shooters shot on a range behind the Bairnsdale Racing Club Hotel, or the BRC as it was known. The BRC was on the corner of the Lindenow Road and the current day Princes Highway, and a new industrial site is currently under construction on what was once the live bird and clay target range - between the highway and St Mary's Primary School. The club's listed address in the Clay Target Shooting News of October 1966 is described as "3 miles Melbourne side of Bairnsdale at BRC Hotel".
Adrian Cousen's recalls riding his bicycle to the range during his lunch break, or early in the afternoon as a young teenager and shooting until he ran out of shells, before riding back to school or home. It was a formative experience for him, creating a successful shooting career which has lasted his entire life, and he progressed to win the 1992 World Championship in American Skeet as a result. He's still actively shooting very successfully in ACTA Skeet events, and is still involved in coaching local juniors.
It was not uncommon for clay target clubs to be attached to pubs in those days, Wangaratta Clay Target Club still sits behind The Vines Hotel on the North East side of Wangaratta today. (Their website has an interesting history page to read also.)
In the late 1950's a plan to put a rubbish tip in the top end of the Morass below the sale yards was a real possibility. On the 16th February, 1957 a delegation of members of the Bairnsdale Field Sportsman's Association visited Parliament to request the Minister of the day set 95 acres at the head of Jones's Bay, and 961 acres of Macleod's Morass "be retained in it's natural state as wildfowl nesting, feeding and breeding areas."
On the 21st April, 1962 their work bore fruit, with the Fisheries & Game Department declared the areas to be set aside as State Game Reserves. To this day the club still has active involvement in their management through construction, placement and yearly maintenance of nesting boxes, annual bird counts and has contributed financially to the ongoing management of pest weed species by the Department of Environment & Primary Industries. Club members still have regular input into the management of the reserves.
In the late 1960's Bairnsdale Field Sportsman's Association maintained affiliations with the VFGA, and the Australian Clay Target Association, and leased a site from the shire on the Bairnsdale Clay Target Club's site at the western end of Bairnsdale Aerodrome where they still shoot today. A three sided building was constructed with a room at one end for clay target storage and a secretary's office.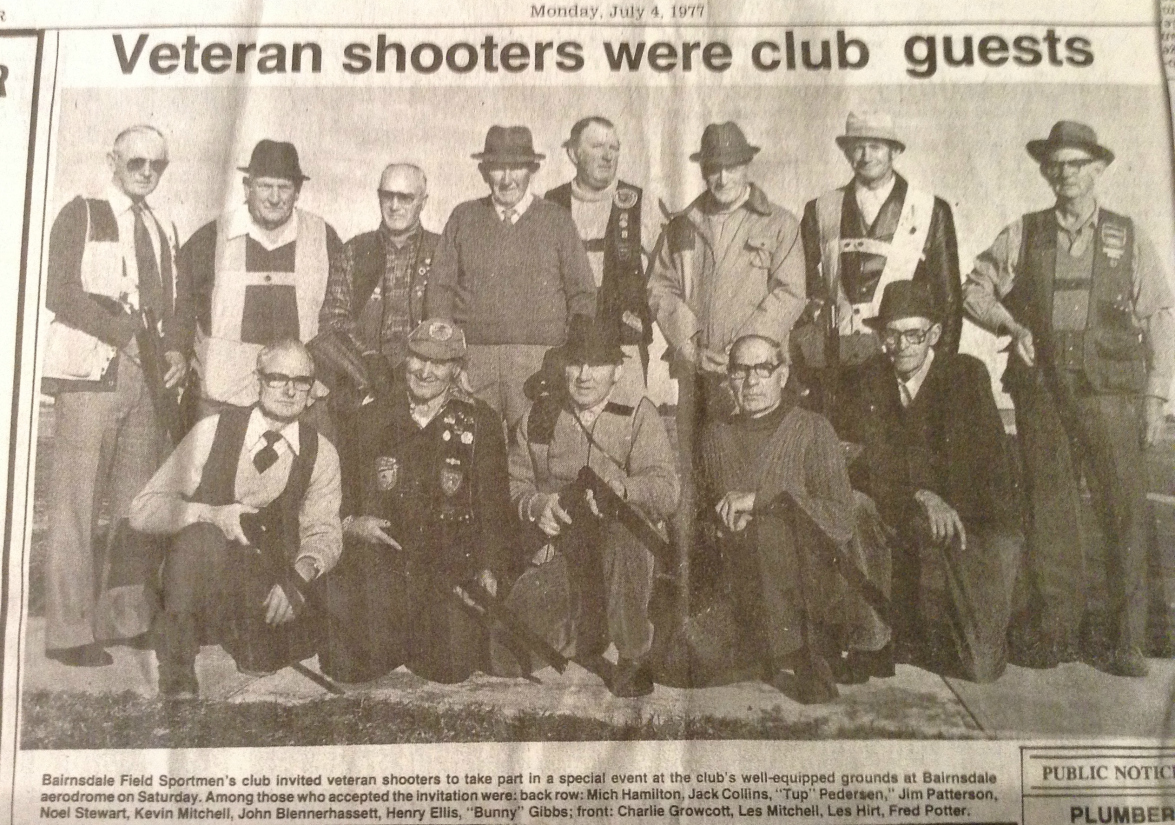 After a tumultuous period in 1978 the shooters more affiliated with the VFGA separated from the shooters who remained affiliated with the ACTA, and Bairnsdale Field & Game Club was formed. A lease was negotiated with Jim Patterson based on a peppercorn rental to retain access to the 82 acres where the club remains to this day. Norm Elliot, now a life member of the club, and 2010 recipient of the Hugh Martin Award for Conservation Efforts over many years, was the inaugural President of Bairnsdale Field & Game. He still shoots monthly at the club today.
The concrete guard house dating back to the site's inclusion in the WWII aerodrome complex was roofed and formed the function of secretary's office & canteen. It is now derelict once again and serves merely as a concrete wall depicting a welcome message hand painted to welcome all to the ground. 
In 1983 the property was put up for sale with Elders and a meeting was held at the Bairnsdale Race Course. Funds were urgently needed to support the club to purchase the land for their continued use. Debentures were offered and donations sought and the club managed as an entity to successfully purchase the freehold. This was a key turning point for the club, and to this day it remains one of very few clubs in Victoria to own the freehold on it's own land. Development was now a real possibility.
Robert Reinke, President of the club in the early 80's, and many members undertook the construction of the current clubroom and canteen, officially opened in February 1983. In it's day it also doubled as trap storage between shoots, and where today pack up and presentations can occur simultateously, back then traps couldn't be packed away until after presentations had concluded. More work was still to be done.
In the 90's Mick Whelan constructed the houses for the skeet ground which is still currently used by the club. It has recently been upgraded and serves as a training facility on club practice days and for another young club member who we hope to see represent Australia in the future.
Moving forward another ten years and in the early part of this century an offer of a shed from the Dahlsen's hardware site saw the construction of "Patto's Shed". Les Pattison and others took down the generous donation from it's site in town and reconstructed it on it's current site, solving the storage problems which came with the ongoing purchase of automatic traps. The timber required for the roofing was milled on site from timber cleared from the grounds.
The club continues to grow and prosper, with recent years having seen the club host the FGA Simulated Field National Championships twice in 1998 & 2008. In more recent years the now Annual 150 target Riviera Classic is a growing event on the club's calendar, this year attracting shooters from across Victoria and Southern New South Wales, and promises to grow into a significant event on the Victorian Field & Game Shoot Calendar.

We hope to see you out at the club in the near future, and that this has given some appreciation of the hard work invested by so many members, committee members and executive over several decades to make Bairnsdale Field & Game the success it is today.