Riviera Secondary Schools Simulated Field Championship 2018
The Riviera Secondary Schools Simulated Field Championship is on again in 2018. In it's 6th year the event has grown from a humble 39 student beginning in 2013, to 130 students in 2016.
The event will be contested on the 14th May at the Bairnsdale Field & Game ground at Comley's Lane. If your school is interested in attending and has not been involved previously please email This email address is being protected from spambots. You need JavaScript enabled to view it.
Schools from East Gippsland are welcome, and several other schools now participate by arrangement. Lilydale Secondary College have attended the past two events in a reciprocal arrangement that sees Bairnsdale students compete at Lilydale in the Yarra Valley Secondary Schools Championship. Several other schools, public, catholic and private from across Gippsland compete also.
The registration sheet for entering squads and teams can be downloaded here.(Still 2017 form at the moment)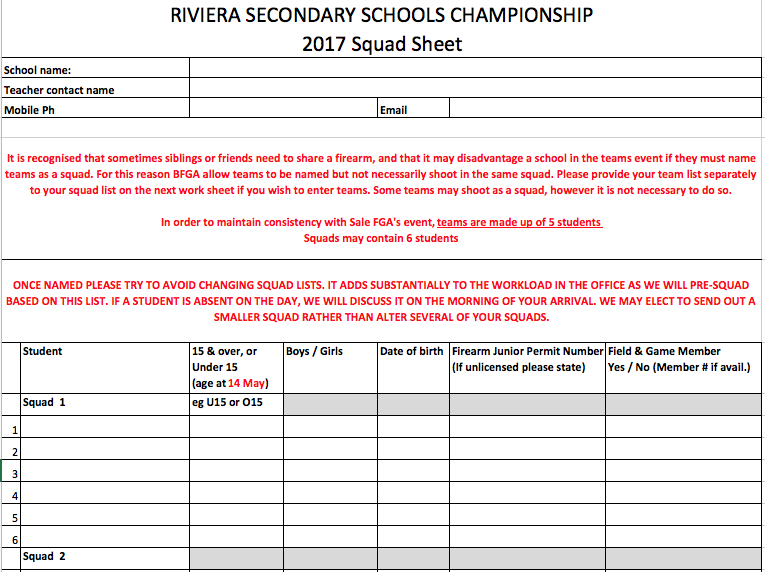 Click on the picture to download Excel file
Please note:
Squads and teams are not one and the same.
Schools may enter teams of 5 students who's combined total score is entered for the teams trophy.
Squads may be of up to 6 students.
Team members need not be in the same squad.
Other information
The cost this year will be $12 per student which will cover entry and ammunition.
The club would prefer a one off payment per school. Cheque, cash or credit card are accepted.
A full canteen will operate on the day to cater for students. 
Students do not need to have a junior permit to compete. All students will be supervised by licensed adults on the day. Schools are encouraged to bring parents to assist.
All students who are not members of Field & Game Australia must sign the visitors book on arrival.
An armoury will operate on the day. Guns must be delivered to the armoury on arrival. All guns not in use for competition must be returned to the armoury on completion of each round. 
All ammunition will be provided. No students are permitted to carry their own ammunition. Any student found in possession of ammunition will be immediately disqualified.
All guns must be carried broken/open. 
The only time ammunition is to be loaded into any firearm is in the shooting cage under supervision. Empty cartridges are to be removed before leaving the cage.
Any student wishing to use a semiautomatic shotgun must advise the shoot coordinator prior to the event. It is advisable to bring that student's parent to ensure a Category C license holder is available to supervise that squad.
Release triggers are not permitted on Field & Game Australia grounds. (As this is a single target event a firearm that can have the alternate barrel without release trigger may be acceptable. Contact the club to discuss.) Any student affected will know what a release trigger is.
The event is contested over 20 simulated field targets. The targets will be shot on two grounds of 10 targets each ground.
On the first cage for the day, a target will be thrown to shoot at which does not count toward the result.
Shoot offs if required will be contested over a round of 5 targets. If a single round does not determine a result, a second round of 5 targets will be contested. After two rounds of 5 targets, should time be a concern the shoot off may be changed to single targets (ie. miss and out if opponent breaks the target,) at the discretion of the club.